Are you like me looking out of the window at the leaves in their Autumn glory hanging by their last touch to the rain battered branches and quietly wondering where the year has gone? Well I'm sure I'm not alone and at this time of year I'm focussing on Christmas Crafts and welcoming the New Year. It's a time when all the family return and the kitchen is full of steam, hungry mouths to feed, mixed with the heavenly scent of pine from the garlands. Christmas is the month we celebrate family and I just love every bit of the preparation and planning and just being Mum with family around again because no matter where they roam Christmas is a time they return to the nest and I'm a happy Mother Hen.
When my children were small we started making our own Christmas decorations ranging from those sticky strips of paper that glued your mouth together after the umpteenth lick to the experimental threading Jelly Tots onto bits of string to wind around the Christmas Tree. Now that one was a bit of a disaster, not only because the melted sugar made it impossible to pass the needle though the melted gloop but because my son, aged about 3 at the time, had a liking for Jelly Tots and as myself and his big sister patiently threaded the sticky globules into a long trail, he was busy on the other side of the tree eating his way through them. When he appeared we had a 3 year old with what looked like a drooping moustache trailing to the floor where sweets had stuck to his face and yes, we still laugh about it now. Boys!
Christmas decorating has gone through many styles through the years from the bright and garish, to minimal Scandi as the children have grown and as I count down the days to December here's one you may like to try for your Christmas table.
The Focal Piece Whether its golds, rose gold silver or red one colour that binds all colour together is green and that's where we are going to start with a simple table direction that can light up the table on Christmas day with a candle or used with a raised cake dish as a focal for displaying the brandy pudding.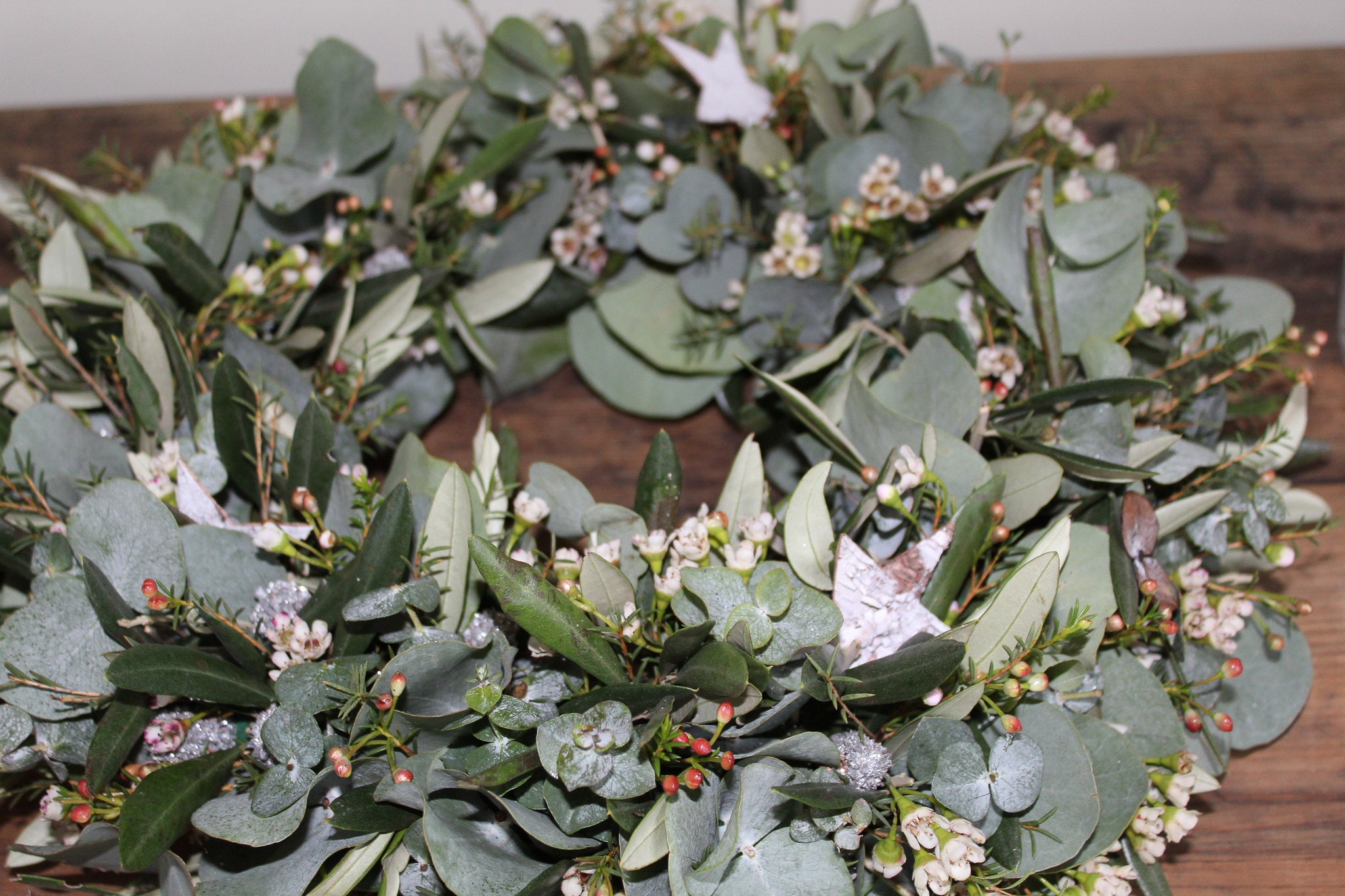 We made this design for a Christmas workshop in our local department store last year and I love the fact that a complete beginner can create the look in under an hour. If you fancy giving it a go here's what you will need:-
1 x 8 inch foam wreath ring
Flower food sachet
Birch stars or small cones for decoration
Glitter
Glue
A mixture of foliage – here we used Eucalyptus and Olive but you can use Spruce, Conifer, Ivy to name but a few
Small flowers or Berries – here we used Wax Flower (Chamelaucium) available through your local Florist but rose hips will work as effectivelyand a sharp pair of snips
First you need to prepare your wreath by soaking it upside down in water in a container containing the flower food. Flower food has been specially formulated to increase the longevity of the flowers whilst reducing the bacteria that prematurly age your flowers and you can find these on most supermarket flowers or from your Florist.
Next chamfer the edges by running a knife at an angle alont the foam edge. This makes it easier to work and keeps the profile rounded.
You are now ready to begin preparing your greenery. Snip your foliage into short lengths leaving a clear piece of stem to insert into the foam. To create the domed shape you need uniform size pieces but you can go with a looser look by mixing the sizes. The lenth of your base foliage will determine the overall size so try to keep it to between 1.5 to 2 inch lengths leaving a stem length clear of foliage of about 1 cm. this is the lenth that will be going into your foam, leave it too long and it will go through the other side and will take up too much space causing your foam to crumble.
Start at the point where the foam meets the plastic and insert your stem so that the foliage begins to cover the base. work your way around the ring adding material evenly then go around with a second foliage. Tip Holding leaves of the Eucalypus together will help you fill in gaps. when released they will relax to fill any gaps you have missed.
Move up the wreath cutting the foliage shorter as you reach the top and inside layer. When the wreath has been covered gather your smaller flowers and insert these throughout the design. You can group several flowers together inserted next to each other to give the appearance that they are from one stem while keeping the rounded profile.
By now you should not be able to see any foam and your foliage should have a nice domed shape. To finish glue some birch stars and cones onto the foliage and shake with glitter and faux snow
Please remember safety when using a naked flame and avoid direct contact with the wreath.
A set table would not be complete without Table Placement Settings and I like to personalise mine onto inexpensive small gifts to seat in the centre of the plates but a simple decoration is just as effective.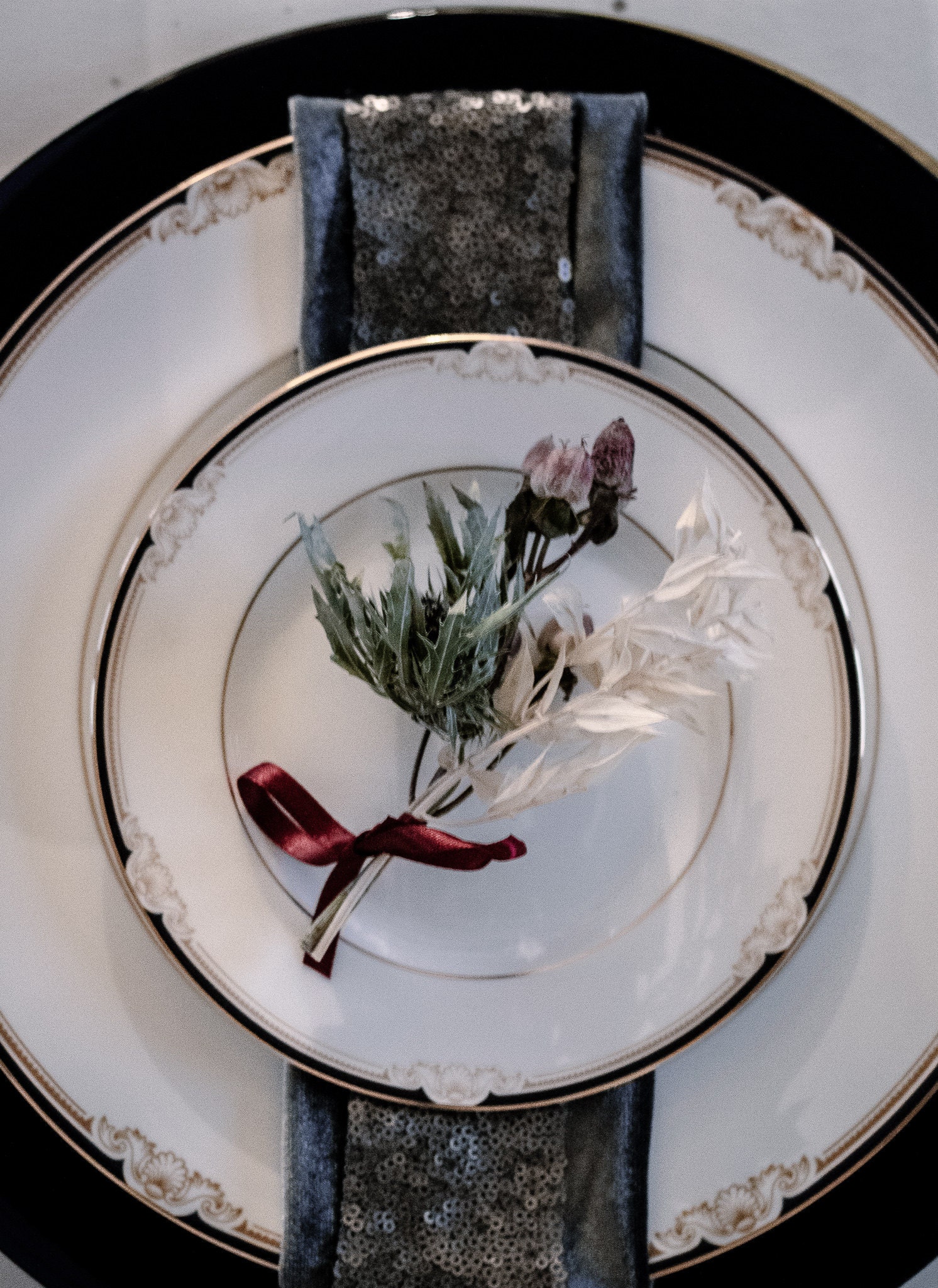 For the plate decoration I have gathered a small bunch of dried flowers together and finished with a bright red ribbon but a single stem or decorated cone would work. Avoid using Yew, all parts are poisonous.
Happy prepping!
Debbie x